Get Ready For Appointment
Get ready for a transformative experience with Dynamic Clinic! Your appointment isn't just a meeting; it's a journey towards a better you. Buckle up for a personalized encounter that goes beyond expectations. We're here to elevate your experience from expert insights to tailored solutions. Prepare to be wowed; our team is dedicated to making every moment count. It's not just an appointment—it's a step towards excellence.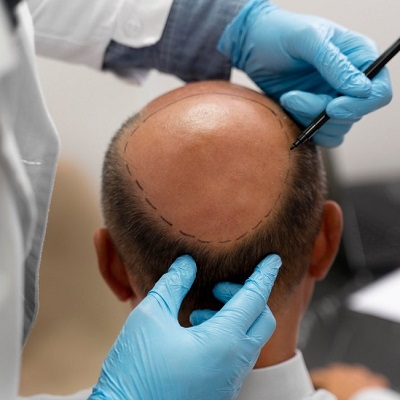 A prevalent worry that can impact people of all ages is hair loss. A novel method for restoring natural-looking hair that is both minimally invasive and successful is the Follicular Unit Extraction (FUE) hair transplant. Many questions come up for folks who are thinking about this operation. By responding to the FUE hair transplant FAQs, we hope to bring clarity and insights regarding FUE hair transplants in this extensive blog. We have all the answers to your FUE hair transplant questions, whether you are a first-time recipient or just inquiring about its potential to change your life.
FAQs on FUE Hair Transplants:
Before going for a FUE hair transplant, you must read everything about it. Read FAQs on FUE hair transplants to stay well informed.
What IS Fue Hair Transplant?
Extracting individual hair follicles from a donor location and transplanting them to the recipient area of the scalp is known as FUE, or Follicular Unit Extraction, a minimally invasive hair transplant technique. The goal of this procedure is to have a more naturally full head of hair.
To WHOM CAN Fue HAIR TRANSPLANTS BE BENEFICIAL?
For those who are losing their hair due to aging, genetics, or other medical issues, FUE is an appropriate option. For both men and women, it might be a useful answer.
How SAFE ARE Fue HAIR TRANSPLANTS?
FUE hair transplants are considered safe when done by a trained and experienced surgeon. Because the process is minimally invasive, there is a lower chance of problems. Selecting a trustworthy provider is crucial, just like with any medical procedure.
How Much Time Does THE Fue Process Take?
The amount of work involved and the number of grafts transplanted determine how long a FUE hair transplant takes. An FUE treatment could take several hours to finish on average.
How Have the Recoveries Been?
In general, FUE recovers more quickly than other hair transplant techniques. Generally, you can resume their regular activities in a matter of days. For best outcomes, nevertheless, you must adhere to the post-procedure care instructions.
Are Any Scars Visible?
At the donor location, FUE leaves very small, almost undetectable scars. It makes it a better option for people who like their hair cut shorter because it reduces the exposure of scars.
What Is the Time Frame for Results?
After a FUE transplant, hair regrowth happens gradually. While the transplanted hair follicles adjust to their new place, it may take up to a year or longer to observe the complete effects. Initial results can be evident in a few months.
Is the Hair Transplanted Everlasting?
In most cases, hair transplants are permanent. The transplanted hair grows spontaneously in its new location since the follicles are extracted from a donor site resistant to hair loss.
What Is the Price Range of a FUE Hair Transplant?
The location, the facility, and the number of grafts required all affect how much a FUE hair transplant will cost. Getting a customized price during a consultation is crucial.
Is Shaving the Head Necessary for FUE?
FUE does not necessitate shaving the complete head, unlike other hair transplant methods. To make the extraction procedure easier, only the donor area is cut. You can leave the remaining hair at your desired length.
What Distinguishes FUE from FUT Hair Transplants?
Hair transplant techniques include FUE (Follicular Unit Extraction) and FUT (Follicular Unit Transplantation). Harvesting hair follicles is the main difference. Unlike FUT, which requires taking a strip of scalp and chopping it into grafts, FUE entails the extraction of individual follicles. When opposed to FUT, FUE typically yields less obvious scars and a faster healing period.
Conclusion:
FUE hair transplants are a game-changing option for people looking to grow back their hair and feel more confident. Our answers to these frequently asked questions about FUE hair transplants will help you gain a better knowledge of this cutting-edge hair restoration method. Speaking with a skilled surgeon is essential if you are considering getting a FUE hair transplant to develop a customized treatment plan.
Dynamic Clinic in Islamabad has the best FUE hair transplant treatment option. They have the latest technology and expert providers to fulfill your hair transplant needs.
Related Treatments